This shop has been compensated by Collective Bias, Inc. and its advertiser. All opinions are mine alone.
#AdvilRelief
#CollectiveBias
Today, I'm talking about all of the essentials that I carry in my handbag, so that when I'm out and on the go, I am prepared for anything that comes my way. My handbag holds everything from my planner (
my life!)
, headache meds, to my makeup for touchups, my bag truly holds it all!
Wallet //

Of course I'm going to have my wallet! Personally, I love carrying a thinner wallet, because it's smaller and doesn't allow me to overstuff it full of old receipts and coupons. I chose to have a gold wallet, because it goes with every season and each handbag that I own. That way if I want to switch purses just for the day, I know I don't have to go through the hassle of changing out my wallet, too!
Makeup Bag //
No matter where I am going, I always carry a makeup bag full of the essentials. You never know when you are going to need a quick touch up during an event, while you're out shopping, or after work before you head out to meet some friends. Some essentials I like to keep are pressed foundation, mascara, lip liner, lipstick, lip gloss, and ponytail holders. With those essentials, you can take your makeup from drab to fab on-the-go!
Advil® Liqui-Gels® minis //
Have you ever had a headache, joint pain, or a backache while you're out and about? For me, headaches can strike at any moment, so no matter where I am, I want to be prepared to fight the pain, and nothing's faster on tough pain* than Advil® Liqui-Gels® minis. I keep Advil® Liqui-Gels® minis stocked up in my bag at all times, because they are a fast and powerful pain reliever in a smaller, easier to swallow Liqui-Gel. Fast pain relief is now mighty small, but the same powerful strength.
If you're anything like me, that time of the month is not fun at all. Advil® Menstrual Pain Relief is another pain reliever I keep stocked in my bag. It delivers powerful pain relief to the toughest of cramps, as well as relieving headaches and back pain. Don't let your cramps keep you from being the #girlboss that you are.


Hover over the image below to shop these amazing pain relievers. You can also click
here
to visit Target.com.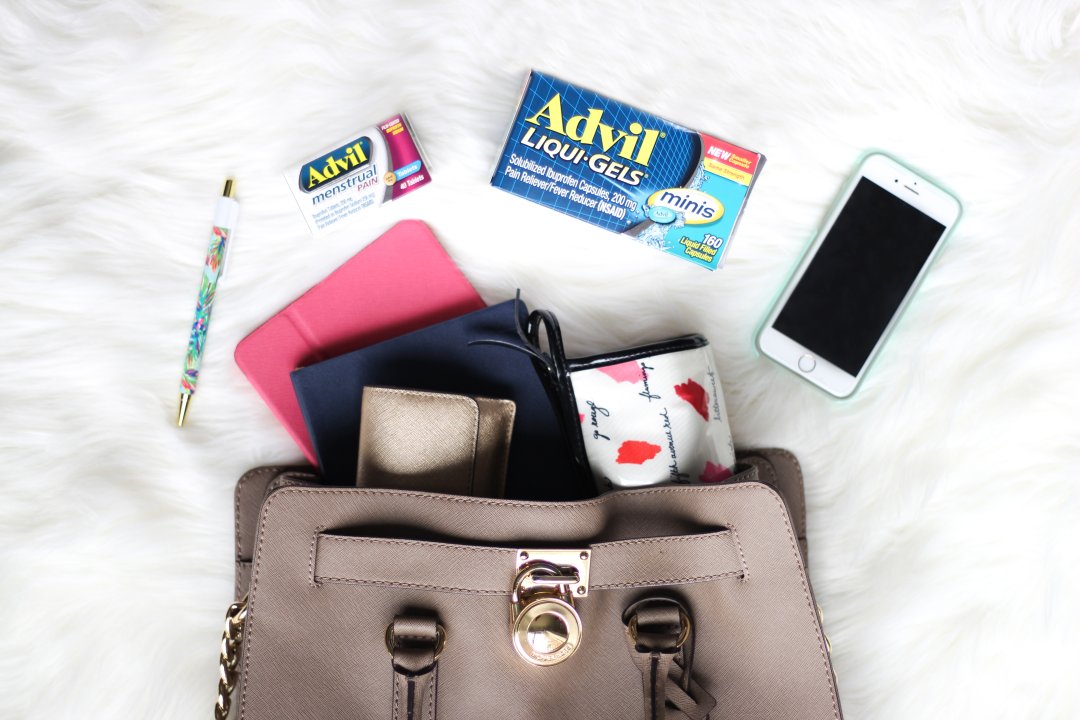 Mini Hairspray //

Avoid a hair crisis and keep a mini hairspray in your bag! It's perfect for flyaways and locking in your perfect hairstyle and in the wintertime, I love using it to remove static cling. There's nothing worse than a clingy skirt/dress and frizzy hair.
Tablet //
I don't
always
carry around my Tablet, but if I know I'm going to be traveling or stopping at the coffee shop for a bit, it's perfect to catch up on reading my favorite blogs or scrolling through Pinterest for some outfit or beauty inspiration.
Pin Me For Later!
Planner & Pen //
My planner holds my life. I'm one of those people that
has
to stay
super
organized on paper or I go completely nuts. If I don't physically write it down, chances are I'm going to forget. Having my planner on hand at all times is also great for scheduling in coffee dates with friends or double checking my schedule later in the week to see if I can nanny at all in between blog work.
Phone & Charger //
What is life without your phone? I don't think any of us could go a day without using our phones--they've just become a part of us. Keeping my charger handy is also a necessity. All too often, my phone was dying while I was out and I really needed it. My job depends on being active on social media and my phone all day, so to not have it or my charger is detrimental to my job. If you don't want to carry your charger around because you only have one, pick up a portable charging station. Some of them are as small as a tube of lipstick!
Keys & Keychain //
Every girl needs a bow keychain...or at least a super cute one! I have
so
many different sets of keys that I have to carry at all times, (my home keys, car keys, nanny keys, etc.) so my keys weren't the cutest until I organized them on a darling keychain.
Sunglasses //

I can't leave home without my sunnies. My eyes are super sensitive to the sun, so I have them with me no matter if it's sunny or cloudy. Am I the only one who still squints when it's cloudy out?! Either way, my sunnies are either in my handbag or on my face.

What are some things that you always keep in your bag?!

Disclosure //
*Among OTC pain relievers
Use as directed
©2017 Pfizer Inc.
LIQUI-GELS® is a trademark or registered trademarks of Catalent Pharma Solutions.

Stay Classy.
xx,
Kristen