This shop has been compensated by Collective Bias, Inc. and its advertiser. All opinions are mine alone. #PurinaONEPets #CollectiveBias
It's been a little over two months since my husband and I moved into our new rental home, and we are so happy to have the opportunity to live where we do as we are searching for our permanent home of our own. Before we moved, honestly one of my biggest concerns was how Lilly was going to transition into a new home.
We used to live in a two-bedroom apartment that was around 1,000 square feet and we now live in a rental that is four times that size, so we knew that it would be a huge adjustment for her and for us! I did a lot of research to make the transition a little easier on her, and I thought that I'd share what I did for Lilly so that in case any of you are moving anytime soon with your kitty, then you'd be in the know!
Introduce your kitty to one room at a time
Something that is a huge game changer is introducing your kitty to one room at a time. Cats are known to be skittish, but curious all at the same time. Allowing them to explore one room at a time lets them adjust to a new space in their own time.
When we first moved in, I was so sad because Lilly didn't want to cuddle at night like she normally did. All she wanted to do was hide under the dresser or behind the window shades to continue exploring and scoping out the area. After a week or so, she was comfortable enough in her new space that she would come up and snuggle on the bed.
Fast forwarding two months later, she's as crazy as ever and runs to the door when you get home, will lounge on the bed, or snuggle up in her window sill to soak in the sunlight. Now that she's used to the bedroom, she's explored the whole house and knows that the bedroom is her home base, and always comes back to it knowing that she's safe.
Show them their litter box
Of course whatever space you put your kitty in, they're going to need a litter box! Be sure to show that to them pretty much as soon as you let them out of their carrier. When Lilly was a kitten and we first brought her home, it was one of the first things she set out to find--especially after the hours she was unable to use the litter box in the car and at the shelter.
When we let her out of the carrier in our new home, this time I carried her and showed her the litter box, and she knew exactly where to do her business. Since it was the largest space she'd ever been in, I wanted to make sure she knew where it was in case she got scared. The last thing I wanted to deal with was an accident--which PTL, she's never had!
Note: Prepare for ultimate cuteness in the next photo. It's our favorite pose she does...so stinkin' cute!
Keep their favorite items together
If your kitty is as spoiled as mine, she has blankets, scratching posts, and toys galore. One huge tip: don't clean them or wash them. Leave their fur all over them to allow their scent to stay. All I wanted to do was clean everything so that we'd move in to our new home with everything washed, clean, and ready to go, but I knew that this would be important to keep for her.
Since everything of hers still had her scent on them, immediately she knew that this was home. All of her belongings were there, so she felt more comfortable with the whole moving idea. We ended up putting all of her things in one corner of the room so she had a safe place during the first few weeks. As she grew more and more comfortable, her toys began to scatter the floor.
Lilly has now deemed that corner (and the whole bedroom--let's be honest here) as her own, and will sit in a specific spot depending on her fifty two count nap schedule. haha!
Keep the same feeding schedule
Keeping the same routine will help so much! Lilly is very used to having her food in the morning as soon as our alarm goes off (she's so good about not waking us up before it goes off!! PTL!), dinner, and a midnight snack. She knows her feeding times, and she will let you know if you're even just a minute late. Since her belly was happy, so was she.
Something else that we did was immediately show her where her new feeding station would be. I carried her over to it, she gave it a sniff, and of course, found her crunchies.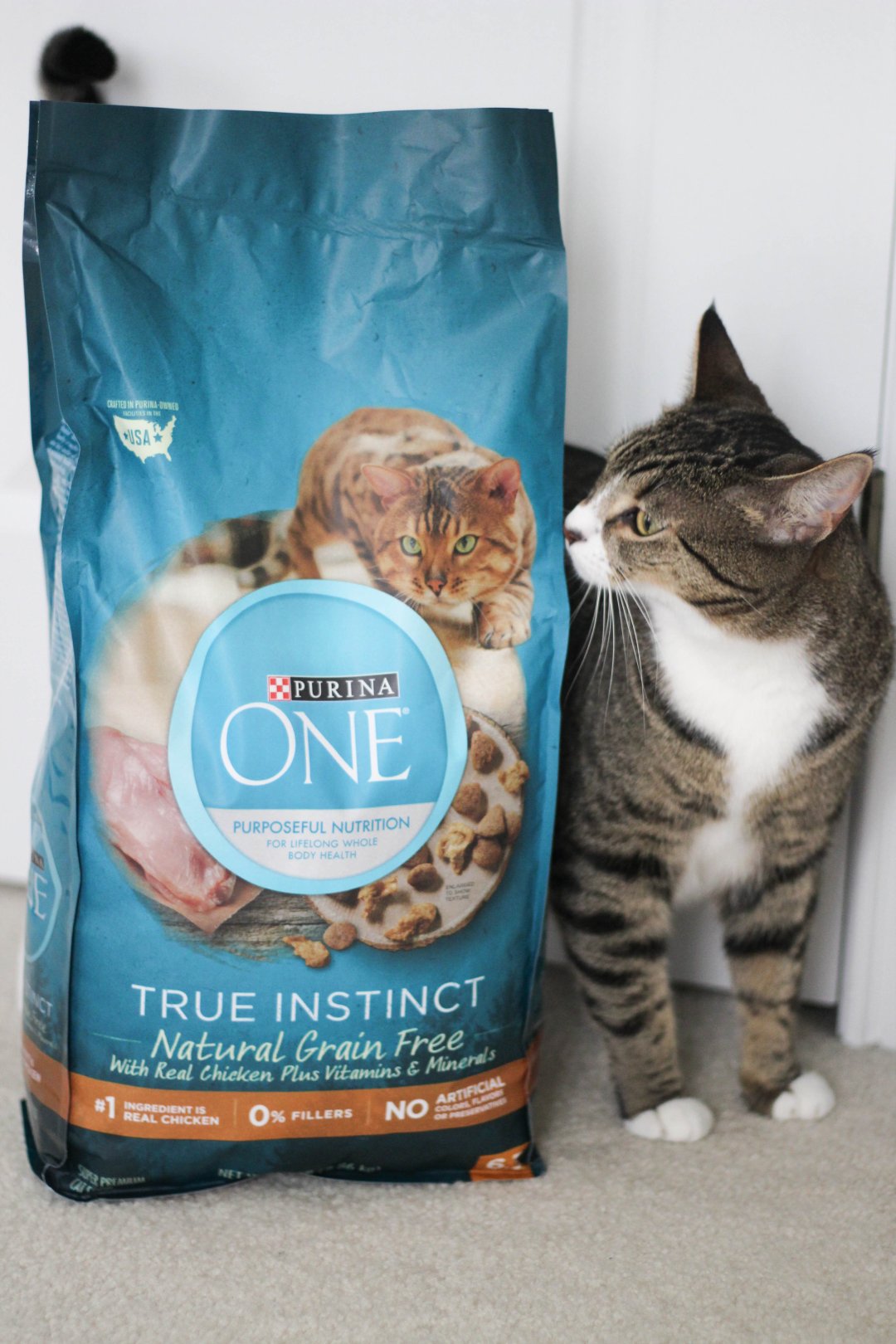 Now y'all have heard me rave so many times about Purina® and how much Lilly loves their food and litter, so of course I have to share with you a new-to-Lilly food that she no lie scarfed down and couldn't stop licking her lips after eating. haha!
Chris and I were on our usual weekly Target run for all of our essentials, and we knew we
had
to try out the
Purina ONE® True Instinct Natural Grain Free With Real Chicken Dry Cat Food
. Shopping at Target for Lilly is such a breeze. Everything from both her dry & wet foods, treats, litter, and yes, all her toys are all in one area. It makes finding what we need for her quick & convenient. When shopping for her, we stick to Purina® products for all of Lilly's food & litter, because we've loved and trusted them for her since she was a kitten!
We love Purina ONE® products, because we know that every ingredient has a purpose, and they are formulated with high quality real meat, poultry or fish to help support strong muscles and a healthy heart. There are no added fillers or artificial flavors, so you know that you are giving your kitty the very best.
Not only does Lilly love the flavor, but I love what it does for her. Purina ONE® has purposeful nutrition, and has a mix of vitamins and minerals designed to help support a healthy immune system, and promote a shiny, healthy coat. From the eyes, energy, skin, and coat, every ingredient is combined to make a noticeable difference in your pet's whole body health--no matter their life stage.
You can see a difference in 28 days when you make the switch to Purina ONE®, so take the Purina ONE® 28-Day Challenge, and see the difference for yourself! Click
here
to sign up now to get a $3 off coupon and a personalized food recommendation for your pet. If you can't make it in to Target, be sure to subscribe to Purina ONE ® at Target for 5% off + free shipping.
Deal Alert
Buy 2 bags of Purina ONE ® Dry Cat Food and get a $5 Target gift card. (offer valid 9/2-9/8)
Click
here
to read about other amazing blog posts about Purina One! You'll see Lilly's pretty face and some cute pups that love Purina One, too.
Give them extra attention & love
No matter the transition, whether a dramatic cross-country move or down the street, everything will be new for your kitty. It's important to give them extra attention and love to let them know you are still there to be their snuggle buddy. Moving can be stressful, not only on you, but on them, so de-stress together and have a snuggle fest. I can't think of any better way to celebrate a move.
Have you moved with a pet before? What tips do you have for moving them into a new home?