This shop has been compensated by Collective Bias, Inc. and its advertiser. All opinions are mine alone. #WatchHowIStyle #CollectiveBias
The Holidays are quickly approaching and I've already begun planning out my outfits for Holiday parties and for Thanksgiving & Christmas Day. For me, it's the one time out of the year that I get to see some of my extended family, so I've really got to impress. Plus, family pictures are being taken, and I must look chic, always & always. The one thing that I don't want to be during the Holidays is a sloppy, uncomfortable mess. In today's post, I'll be sharing a few tips on how to look effortlessly chic during the Holidays.
Pin Me For Later!
One // A dress is your best friend
Anyone else overeat during the Holidays? Maybe accidentally on purpose eat half a pumpkin pie? 🙋 One thing that I've learned is that dresses are my best friend. Whether it be a long dress, short dress, or a dress with leggings, I am almost always more comfortable in a dress. I usually opt for a flowy or oversized dress that gives me a little wiggle room for when I start indulging in all of the goodies. For me, jeans or pants just make me feel like I'm suffocating and can't breath after round one of food--so, I'll definitely be rockin' a stunning dress. Plus, your entire outfit has just been chosen with just one piece!
Two // Accessorize
Accessories are the heart of an outfit. They elevate your outfit to a whole other level with just a few simple pieces. With the particular dress that I chose, it has detail at the neckline, so I was able to get away without a necklace. I chose to wear simple hoop earrings and stunning Anne Klein arm candy.
Anne Klein watches are practical timepieces of jewelry, perfect for staying on schedule and on trend. They come in a variety of different shapes, sizes, colors, and materials to fit any woman's fashion style. When I went into Macy's, I scoped out the Anne Klein jewelry counter and immediately fell in love with a rose gold toned Swarovski crystal accented mesh bracelet watch. I just knew it would be perfect for the Holidays, or for any occasion.
If you've read any of my other fashion posts, you've probably noticed that I am obsessed with arm candy and I always have a bracelet or two paired with my watch. Once I finalized my watch choice, I went over to where the Anne Klein bracelets were and found a gorgeous rose gold crystal bracelet. The watch and bracelet are simply perfect together. If you're buying a watch as a gift, something that I love about Anne Klein is their box sets that feature a watch and bracelet. That way, if you're not sure what to match with a watch, it's already paired for you!
The Holidays are all about giving, whether it be to yourself because you rocked your end of year review, or you want to give something a little extra special to a friend. A watch is always such a personal and stunning gift to give. To shop this gorgeous Anne Klein watch, hover over the image below!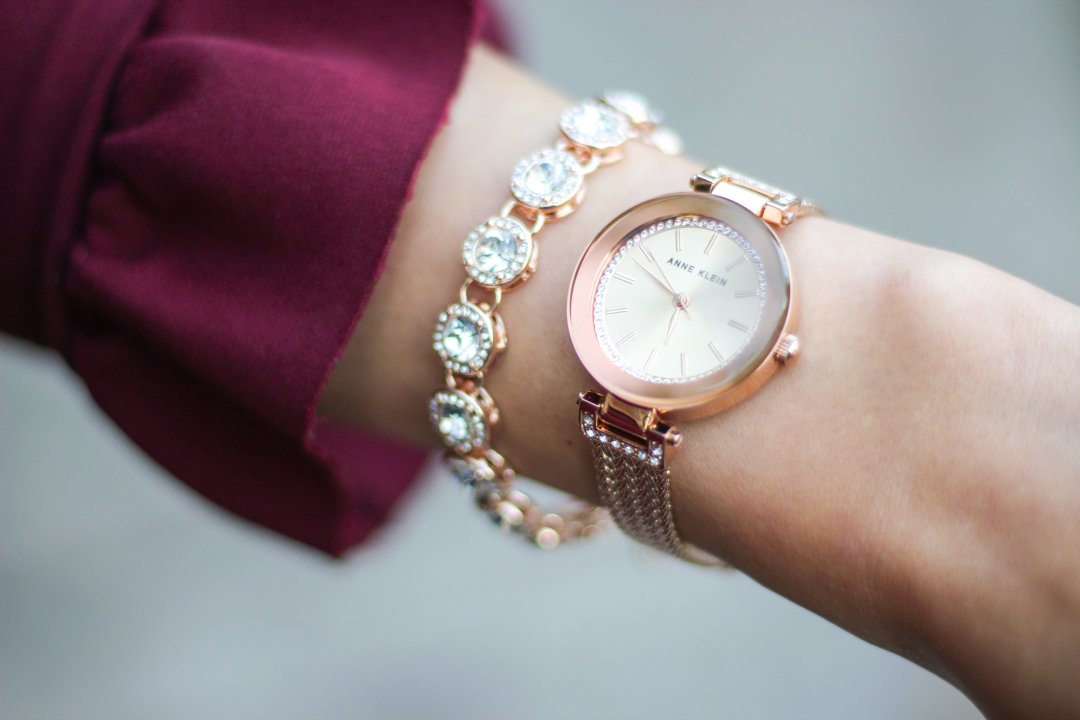 Three // Wear comfortable shoes
You probably think I'm crazy for saying to wear comfortable shoes while I'm wearing stilettos, but I promise, they are so comfy to me! I wore them all day on my wedding day and didn't feel a thing! A lot of times what I will do is show up to a Holiday party in my stilettos and have a pair of flats in the car or my handbag that I can switch to if need be. All that to say, if your feet aren't comfy, neither are you.
Click
here
to shop the gorgeous Anne Klein watches from Macy's! You can also go in-store like I did and you will find them in the watch cases within the jewelry section. The bracelets are in a separate Anne Klein section, but you will see the different counters labeled.
What are some of your go-to ways to look effortlessly chic during the Holiday season?
Who else will be out there in oversized dresses eating all the pumpkin pie rockin' the classiest of arm candy?!
Stay Classy.
xx,
Kristen