Owning a cat is such an amazing experience. If you're new to the blog, I just have to tell you one thing before we get into today's post. I am the crazy cat mom and I am not ashamed. I seriously love my sweet girl, Lilly, so much. She quickly became my fur-ever best friend and she's the sweetest fur-baby in the entire world.
I've shared quite a few posts about her--like her rescue journey from trash can to palace (yes, someone was crazy enough to throw her away!) and how she's helped improve my mental health and helps me daily to reduce my anxiety & depression. Lilly has most definitely changed my life and my husband's for the better, and we're always looking for ways to make her life more amazing.

Click on the items above to shop my post!
Today, I wanted to share with you some Lilly tested, Lilly approved products that we use at home and that every cat owner needs for their kitty, too! As I'm typing this, Lilly is cuddled up next to me approving everything I'm talking about today. I have the best blogging assistant. 😻
If you're a pet owner, you know that your pet is a very important member of your family. I've partnered with
BJ's Wholesale Club
, because they offer a wide assortment of food & accessories for your fur-babies at an unbeatable value.
BJ's
is a one-stop shopping destination to give pets the very best. Okay, let's get into some of those must-have products you'll need for your kitty!
5 Must-Have Products for Every Cat Owner //

Nutritious Food //
Our kitties need the best of the best food.
BJ's
offers a large selection of leading national brands and specialty pet food brands that cater to your pet's needs without breaking your budget.
BJ's
also has its exclusive Berkley Jensen line of high-quality pet products that provide the nutrition that pets need to live a long, healthy, and happy life, all at an incredible value.
Lilly had never had much seafood before she tried these (other than a little tuna out of the can) and she gobbled them up like crazy! This variety pack will definitely be something we pick up on a regular basis. These flavors (Cod, Salmon & Ocean White Fish) provide key ingredients & amino acids that cats need. Amino acids are what keep your cat's coat soft, healthy, and shiny.
Tons of Toys //
Toys are a no-brainer. We have a basket filled to the brim with toys and Lilly will go to her basket and pull out toys. She's like a mini human baby and I find toys
everywhere!
Her favorites are the ones that squeak like a mouse, but she's been loving foam darts. She'll play fetch with them!
Playing with your cat daily with their toys is extremely important as it keeps them active and in shape. A laser pointer is also another toy to keep on hand and get them on the move.
Pin Me For Later!
Litter Box & Unscented Litter //

Of course everyone knows that you need a litter box, but something that I've noticed that's super important is unscented litter. Lilly is actually highly allergic to scented litter and it was making her sneeze every time she used the litter box. When we switched to unscented, she was fine. If you're not using an unscented litter, I highly recommend it!
Cozy Bed //


Lilly has been loving her new bed from
BJ's
. The inside is
so
soft and keeps her cozy & warm. This one comes with a blanket and a toy, too! When I saw it, I initially fell in love with it, because it matches our home aesthetic. She was so funny at first sniffing it to see if it was really
hers!
After a few minutes, she cozied right up in it and I didn't even have time to open the toy and blanket before she was fast asleep.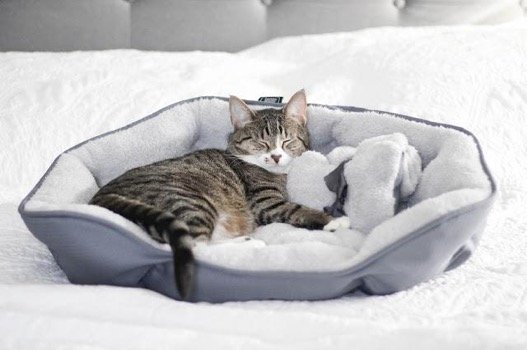 Click on the items above to shop my post!
Cat Carrier //
A cat carrier is something you definitely need on-hand. Not only do you need one to bring your fur-ever friend home in, it's great to have one in case you need to head to the vet for an emergency or you're headed on a road trip. When choosing a cat carrier, get one that has tons of padding on the bottom so it's comfortable during trips!
$$$ Saving Deal Alert! //
Now that I've shared a few must-have products, I just have to share an amazing $$$ saving deal for you! Real friends share savings, right?! I'm sharing my
refer-a-friend link
for you to join BJ's today and earn a $25 gift card! With savings so good, why keep them a secret?! I just had to share it with you. Click
here
to join BJ's today.
Once you become a BJ's member, when
you
refer your friends to join BJ's by visiting
BJs.com/bestie
, you'll both receive a $25 BJ's Gift Card when your friend joins. It's kind of like an Oprah situation.
You
get $25!
You
get $25!
haha!

Join now!
There's nothing better than saving money while getting all of your cat's necessities. I highly recommend
BJ's Wholesale Club
for not only your pet products, but for your shopping needs as well!
What are some of your must-have products you have for your kitty?
I was selected for this opportunity as a member of

CLEVER

and the content and opinions expressed here are all my own.